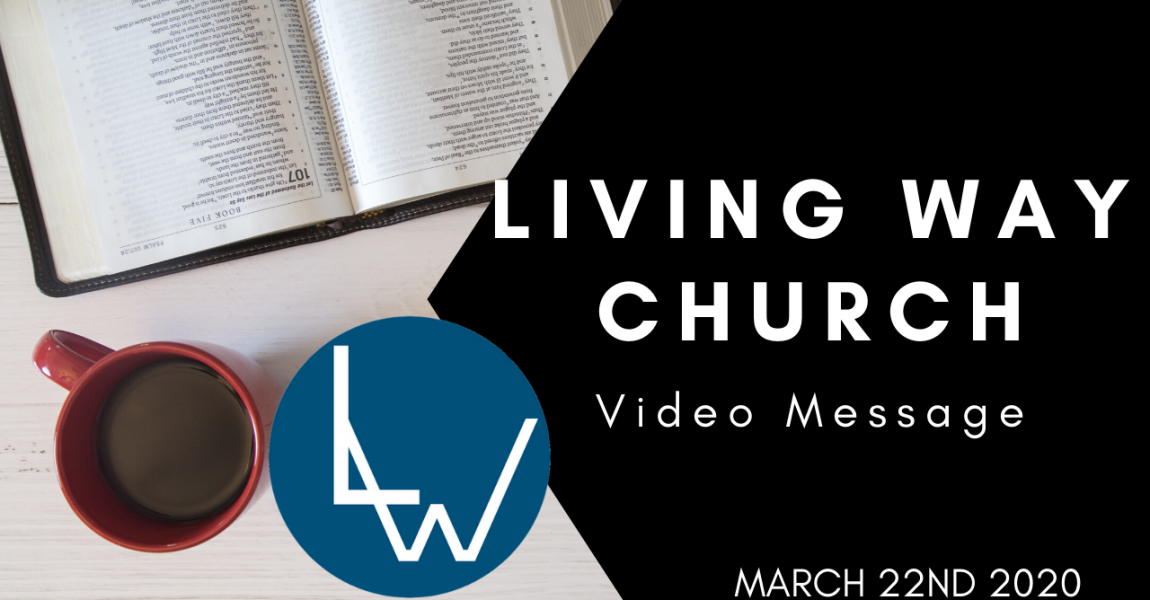 A Message from our Worship Leader Bethany
Hi Church Family!

This playlist on YouTube is called "Worship At Home" for a reason. Right now, in the midst of what's going on, is a pivotal time for us to lift our voices and fill our homes with worship. The Spirit's desire to fill us and speak to us is always present. When we respond with worship, He fills the environment. We all need to be encouraged and reaffirm our trust in our living God who preserves, heals, and loves us. The first song in the playlist is called "Love Like This" and has a segment to speak the name of Jesus and to worship Him with your own words. Fill your home with this reassuring and faith building song. Lift your voice! Our God is alive, and He knows exactly where we are and what is going on. He neither slumbers nor sleeps! He is with us even now.
Greetings from Pastor Bill!
Thank you so much for being here and being part of this video message!
We ask you to not just WATCH Church, but HAVE church in your home.
We are in a new place and experiencing a pandemic we've never seen before and it is a pivotal time to pray!
2 Chronicles 7:12-14 (NKJV)
God's Second Appearance to Solomon
12 Then the Lord appeared to Solomon by night, and said to him: "I have heard your prayer, and have chosen this place for Myself as a house of sacrifice. 13 When I shut up heaven and there is no rain, or command the locusts to devour the land, or send pestilence among My people, 14 if My people who are called by My name will humble themselves, and pray and seek My face, and turn from their wicked ways, then I will hear from heaven, and will forgive their sin and heal their land.
God responds saying – He will respond, He will forgive and He will heal
God hears our prayers, He wants to heal!
Prayer – 6:58
We're proud to be a teaching church! Today, this special message is an exhortation.
What is an exhortation?
It is a call to action, it is also a course correction and a course confirmation
Inside Out to – Walking it out
We move from Inside to the Out to care!
When we go through a crisis we are programmed to Fight, Flight or Wait
Crisis changes our normal patterns of living, behavior and daily customs and comfortability
Our heart and brain can do strange things under crisis and there are a lot of emotions and reactions
As human beings we feel the crisis around us and it can push us to think a to-do list
But I (Pastor Bill) believe this exhortation brings a word the Holy Spirit is saying to secure you and comfort you in this crisis of COVID-19
Isaiah 53:1-5 (NKJV)
The Sin-Bearing Messiah
53 Who has believed our report?
And to whom has the arm of the Lord been revealed?
2 For He shall grow up before Him as a tender plant,
And as a root out of dry ground.
He has no form or comeliness;
And when we see Him,
There is no beauty that we should desire Him.
3 He is despised and rejected by men,
A Man of sorrows and acquainted with grief.
And we hid, as it were, our faces from Him;
He was despised, and we did not esteem Him.
4 Surely He has borne our griefs
And carried our sorrows;
Yet we esteemed Him stricken,
Smitten by God, and afflicted.
5 But He was wounded for our transgressions,
He was bruised for our iniquities;
The chastisement for our peace was upon Him,
And by His stripes we are healed.
Jesus is deeply impacted by what we feel and think
God perfectly, lovingly and intimately relates to what we feel and think and can help us in our deepest troubles.
Matthew 14:14 (NKJV)
And when Jesus went out He saw a great multitude; and He was moved with compassion for them, and healed their sick.
In the book of Acts:
Saul to Paul – a great intersection (19:24)
Hebrews 4:14-16 (NKJV)
Our Compassionate High Priest
Seeing then that we have a great High Priest who has passed through the heavens, Jesus the Son of God, let us hold fast our confession. 15 For we do not have a High Priest who cannot sympathize with our weaknesses, but was in all points tempted as we are, yet without sin. 16 Let us therefore come boldly to the throne of grace, that we may obtain mercy and find grace to help in time of need.
John 16:12-14 (NKJV)
"I still have many things to say to you, but you cannot bear them now. 13 However, when He, the Spirit of truth, has come, He will guide you into all truth; for He will not speak on His own authority, but whatever He hears He will speak; and He will tell you things to come. 14 He will glorify Me, for He will take of what is Mine and declare it to you.
Application
Jesus is our comforter
He witnesses to us, sharing, nudging, speaking, healing and building you up!
He consoles us, he will give us counsel, He will show us his Heart and things that are beyond the news and will build hope
He will be an advocate to you. He says "Whatever you face, we will face together. You are secure."
Crisis always create opportunities
Crisis creates voids into culture and society
We as the body of Christ are called to come into those intersections with intervening ministry in this season
We can be a community of caring, genuine and generous people
Active Application
Thank people who are caring and giving to help during this critical time. First responders and grocery store associates.
Show genuine countenance – our countenance can speak the character and genuine kindness of God
Be Spirit-Led and let God prompt your heart